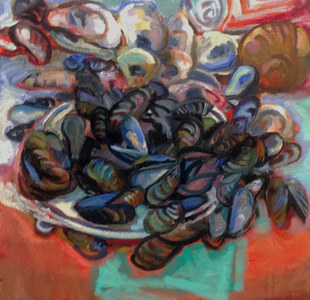 RECENT
The paintings completed after 2014 resulted from a recovery period following severe head trauma. Only able to work on a small intimate scale I started with still lifes, a more formal continuation of a theme from the 90's, that led to the winter paintings "still lifes out my studio window."

In the '90s, I made a group of dinner detritus paintings- kitchen garbage, leftover pizza scraps, Chinese food, lobster parts - all the remains from previous night's fun. The idea was born from the Spanish kitchen still lifes, Bodegones that I saw in Madrid in 1990, as well as the garbage barge of 87. It had left Long Island and was denied a port so it wandered homeless searching for a place to offload- at the time I found it ironic, amusing as well as a sad harbinger of many of the environmental issues that we face today.I was questioning an idea, about the transient nature of life, our " disposable" society and the notion that "When you take the garbage out- ---where's exactly is out?"
Working on a more intimate scale was the only option. These still lifes, lead to painting the "still life" that was out the window. Once able to stand up and work, the scale increased The "food paintings" were exhibited in various group shows. The two other groups were painted over three years (2014-2107) and were exhibited in a 2017 solo show at Gallery North, Setauket, NY

---
---
FISH HEAD ICONS
My idea was to make environmental fetish symbols –icons of some imaginary religion.
They are metaphors- for the transcendent religious experience of being in nature. Working or playing or experiencing. and the transitory nature of being.
My work is organized abstractly I'm interested in the paint not the details or a tidy finished look.
All my work is about marrying abstraction to my own personal vision- my own brand of representational art. But this is coupled with other ideas.

---
---